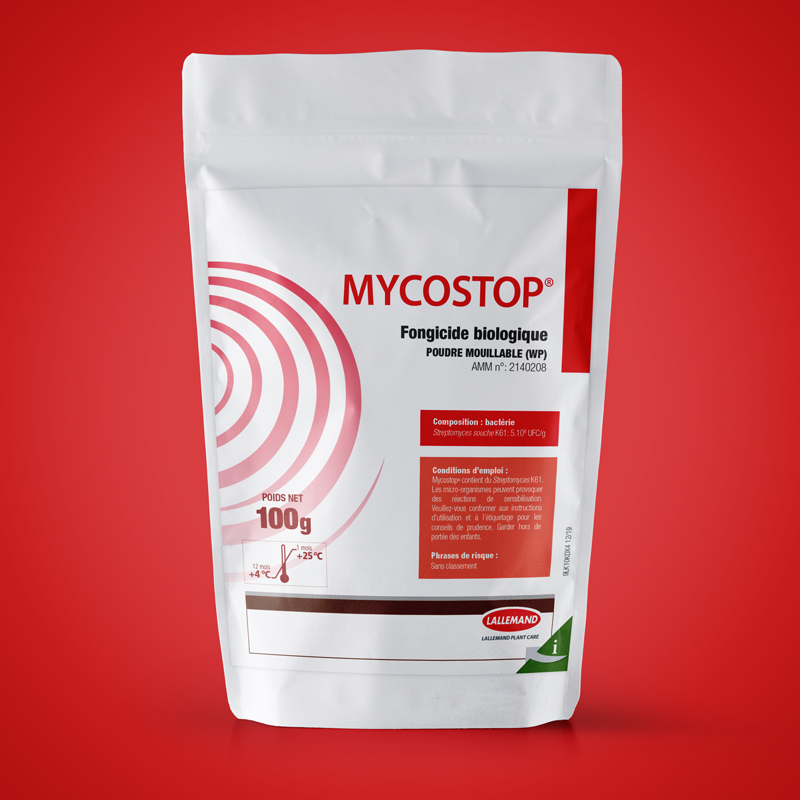 MYCOSTOP
A natural way to combat root disease in your crops
MYCOSTOP® contains a high concentration of Streptomyces K61, a soil Actinobacteria that is naturally found in peat moss and that was isolated by researchers at Lallemand Plant Care due to its fungicidal properties. It effectively prevents the development of a complex of root fungus that causes damping off and dieback in agricultural and horticultural crops ( Fusarium, Pythium and Phytophthora).
* Not all products are available in all markets nor associated claims allowed in all regions.
Formulation: wettable powder
Storage: it can be stored unopened for 12 months in a cool and dry place at a temperature lower than 8°C, and for 2 to 4 weeks at room temperature. Use immediately after opening.
Derogation number: 9809P/B
Suitable for use in organic agriculture in compliance with current regulations.
Modes of action
Key benefits
Mycostop is effective at combating a wide range of diseases that affect both seeds and soil, such as damping off, root disease and dieback (Fusarium, Phytophthora and Pythium).
Ingredients
Spores from the Streptomyces K61 strain of bacteria: 108 – 109 CFU/g
(CFU: Colony Forming Unit. Unit of measure for living microorganisms able to multiply)