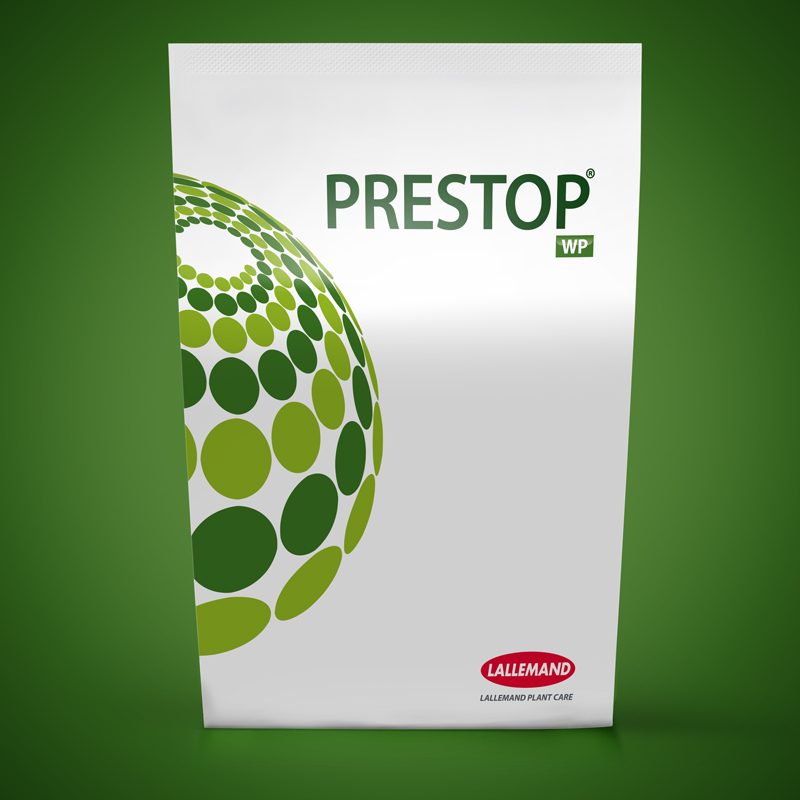 PRESTOP WP
Effective protection for your greenhouse plants and field crops with a biocontrol solution
PRESTOP is a concentration of mycelium and spores from the J1446 strain of Clonostachys rosea, a fungus naturally found in soil and decomposing organic matter.
The J1446 strain was produced by researchers at Lallemand Plant Care and was isolated due to its fungicidal properties, particularly against black rot in cucumbers (Didymella Stagonosporopsis); gray mold on tomatoes, bell peppers, cucumbers, strawberry plants and ornamental plants caused by Botrytis; and damping off and root disease in vegetables, ornamental plants and aromatic plants caused by Pythium, Phytophthora, Fusarium and Rhizoctonia*.
*Prestop can also be used with other crops. Check the product label.
* Not all products are available in all markets nor associated claims allowed in all regions.
Formulation: wettable powder.
Storage: it can be stored unopened for 12 months in a cool and dry space at a temperature lower than 4 °C. Use immediately after opening.
Derogation number: 9734P/B
Suitable for use in organic agriculture in compliance with current regulations.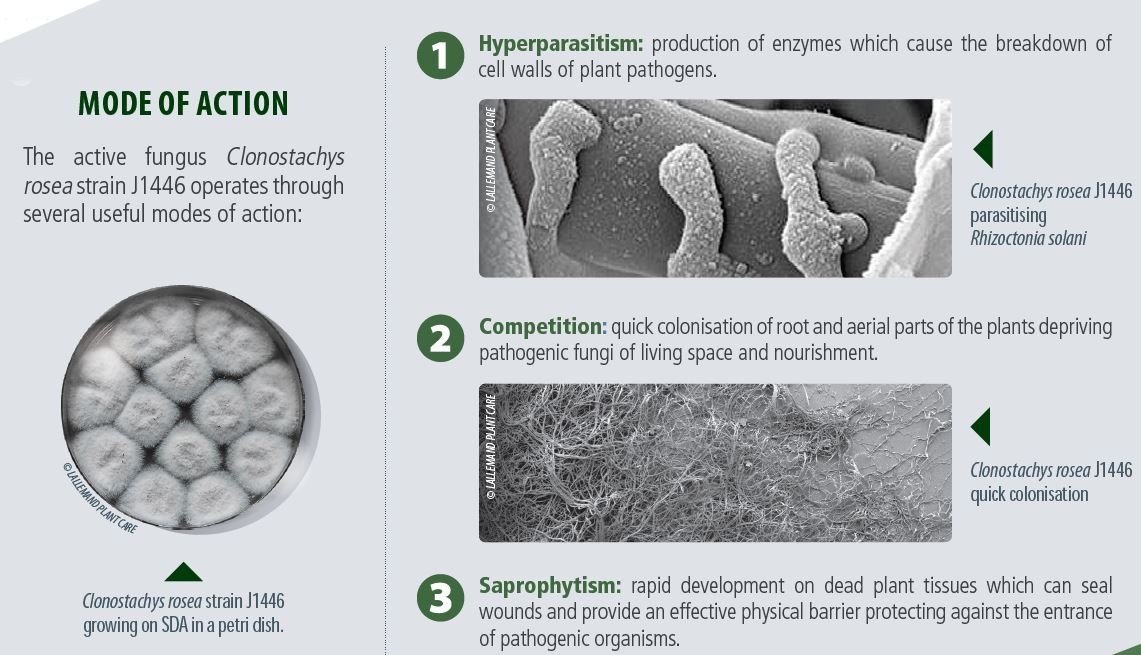 Key benefits
Modes d'actions multiples
Persistance d'action : 3 à 4 semaines sur le feuillage et 4 à 6 semaines dans le sol et support de culture
Efficacité de protection contre une grande variété de champignons pathogènes :
La pourriture grise causée par Botrytis cinerea sur tomate, poivron, concombre, fraisier et plantes ornementales.
La brûlure des tiges du concombre causée par Didymella bryoniae ou Stagonosporopsis spp.
La fonte de semis et les maladies racinaires causées par un complexe de champignons pathogènes du sol sur les cultures légumières, plantes ornementales et plantes aromatiques (Pythium spp., Fusarium spp., Phytophthora spp.)
Profil environnemental :

Utilisable en Agriculture Biologique conformément au règlement en vigueur
Pas d'impact sur la faune auxiliaire (pollinisateurs, insectes auxiliaires…)
Sans classement
Absence de résidus*
*les substances actives exemptées de LMR sont en général acceptées dans les cahiers de charge de type zéro résidu/sans résidu. Renseignez-vous auprès de votre organisme certificateur.
Crop-specific benefits
Black rot (Dydimella bryoniae or Stagonosporopsis cucurbitacearum)
Ingredients
Spores and mycelium from the J1446 strain of Clonostachys rosea fungus at 2.108; CFU*/g (320 g/kg of active ingredient).
PRESTOP Derogation number: 9734P/B
Composition: 107 – 108 CFU*/g (320 g/kg of Clonostachys rosea J1446).
Formulation: wettable powder. Product classification: unclassified – Contains Clonostachys rosea J1446.
Check the product label for authorized uses, dosages, conditions and restrictions of use.
DANSTAR FERMENT AG, Poststrasse 30, Zug CH-6300 Switzerland
Product for professionals: use phytopharmaceutical products with caution. Always read the product label and information before use.