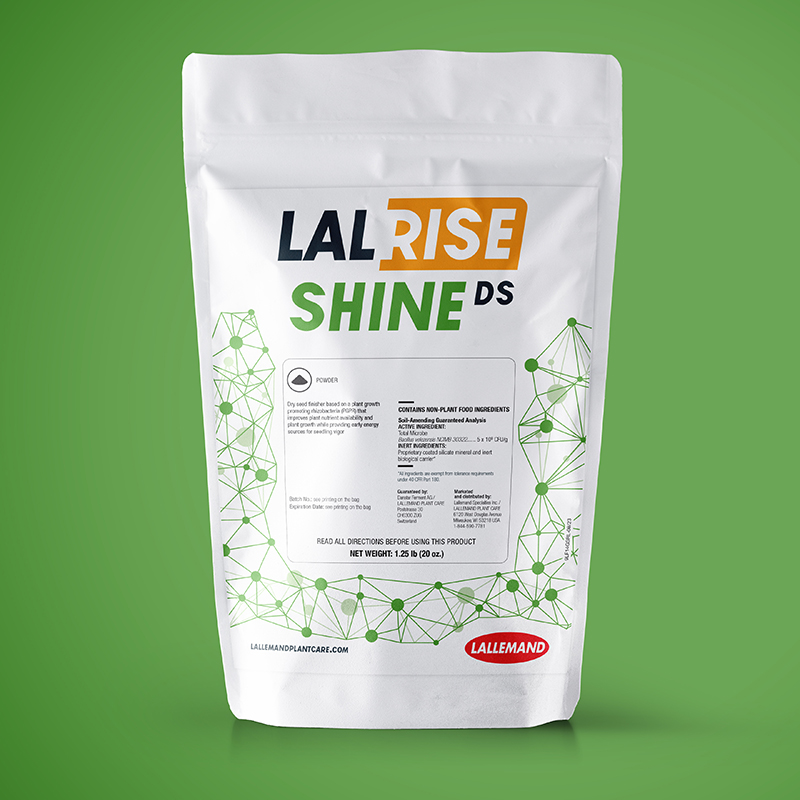 LALRISE SHINE DS
Improves seedling vigor and plant growth
LALRISE® SHINE DS is a dry seed treatment. It combines the performance of Pizazz® seed finisher along with Lallemand's proprietary technology. This plant growth-promoting microbe (PGPM) increases crop establishment through improved root vigor and nutrient availability. Ultimately, LALRISE® SHINE DS solubilizes phosphorus from organic and inorganic reservoirs, which promotes growth in young plants and increases root mass, crop homogeneity and yields.
* Not all products are available in all markets nor associated claims allowed in all regions.
ADVANTAGES
The Bacillus velezensis bacteria contained in LALRISE® SHINE DS multiply and quickly colonize the rhizosphere by feeding on root exudates. In return, this bacteria population brings several benefits to the plants:
Stimulating the start-up of young plants
Improving soil exploration by roots, allowing better nutrient and water uptake
Enhancing the productivity of plants, allowing better growth, yield, and quality

Key benefits
POSITIONING FOR PERFORMANCE:
Help managing crop input investments when carefully striving to optimize return with agronomic choices.
Enhance phosphorous fertility performance when crop fertilizer inputs are limited.
Allow better access phosphorous reserves tied up in soils as a result of high or low soil pH levels.
PHYSICAL ATTRIBUTES:
Evenly coats seed with the microorganism
Enhances cosmetic appearance
Significantly reduces dust off
Optimizes seed flow and plants more accurately
Ingredients
5 x 109 Bacillus velezensis CFU/g
Formats
5 x 20 oz case
Total Case Wieght - 6.25 lb or 100 oz